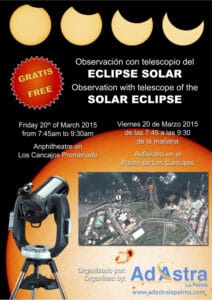 The solar eclipse of the 20th of March is a total eclipse, so from some places on Earth you will see the Sun totally obscured by the Moon.
Out of that area, there are some places, for example Spain, from where you will see a partial eclipse because the Moon only hides a part of the Sun. For the rest of the Planet the eclipse won't be visible.
Totality occurs over the north Atlantic Ocean and Svalbard Islands. The partial eclipse will be visible from Iceland, Europe, Canary Islands, north Africa and north Asia.
For Santa Cruz de La Palma data are the following:
Beginning time: 07h 44m 57s (first external contact between the Sun and Moon borders).
Maximum: 08h 38m 41s (minimum distance between the centers of the Sun and Moon borders).
Ending time: 09h 37m 35s (last external contact between the Sun and Moon borders).
Enjoy this experience, join us in the Anphitheatre on Los Cancajos Promenade (Breña Baja, La Palma), from 07:45am to 09:30am. We will observe the eclipse and the sunspots through a telescope with a special astronomical filter*.
The activity is completely free.
Don't miss the chance, next solar eclipse visible from Spain will occur in 2026!
* Activity subject to weather conditions.